Increasingly, the identity and success of a coastal campsite are determined by the size and diversification of water spaces in their pools: water slides, spas, swimming areas... where campers can enjoy the facilities and their stay as if it were a real water park.
WATER OFFER AT CAMPING ÀMFORA, GIRONA
For some time now, Camping Àmfora, located in the town of Sant Pere Pescador (Girona province), has been committed to this strategy and has been investing in improving its already diverse range of water leisure facilities.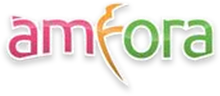 So much so that, in addition to its various existing pools, including a children's pool, a pool with built-in hydromassage loungers, and a larger pool with different types of spa jets, among other spaces, the campsite has decided to expand its water offer with a new pool that serves as the reception for a spectacular boul slide.
RECEIVING POOL AND A PARADISIACAL ENVIRONMENT OF ARTIFICIAL ROCK
This is a deep circular pool with a diameter of approximately 5 meters, accessed by literally falling from the central hole of a huge boul that is part of the end of a water slide.
This incredible water slide is supported by a paradisiacal natural environment made of artificial rock and native vegetation. As for the water from the water slide, it falls into the pool from a height of approximately one meter, forming a beautiful circular water curtain that enhances the beauty and allows you to enjoy this unforgettable experience to the fullest.
The combination of the pool, slide, and rocky environment not only adds to their already spectacular range of water leisure facilities but also serves as a major attraction for new campers and helps retain those who are already familiar with the campsite.
At STAFF GRUP, we have a Technical Office to assist campsites, hotels, and other facilities in transforming their water offer into an unprecedented experience that strengthens and attracts new customers year after year.